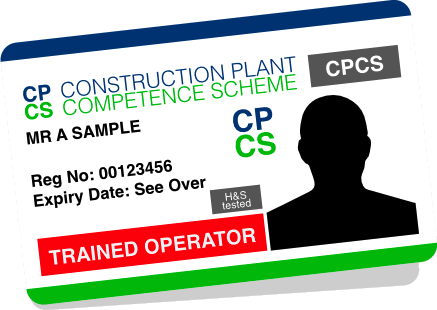 Construction Skills Certification Scheme (CSCS)
A CSCS Health, Safety & Environment test pass is often a necessary requirement to apply to join a construction industry card scheme, with different schemes existing for different trades and professions. 
Membership of a relevant scheme helps you prove that you can do your job safely, while access to construction sites might need a relevant card. 
To take a CPCS Technical Test, upgrade your Red Trained Operator card to Blue Competence card or renew your Blue Competence card you must have an in date CSCS Health, Safety & Environment test taken in the last 2 years.
The Health, safety and environment (HS&E) test for operatives is broken down into behavioural case studies and general knowledge questions.
You are allowed up to 45 minutes to answer 50 multiple-choice questions, to include:

12 behavioural case study questions

38 knowledge questions
The test is computer based and you simply click on your chosen answer and click next to proceed with the test.
A tutorial is available prior to taking the test which explains how everything works and allows you to try different functions before sitting the 'real' exam.
To take the exam you must have the appropriate ID with you (See a full list of acceptable ID ). Please note without the correct ID you will not be allowed to take the test and it will need rescheduling.
Case Study Questions
You are given three case studies with four linked multiple choice questions to each. They are designed to test how you respond to health and safety situations on a construction site. The questions are based on principles established in the 'Setting Out film'.
When answering the case study questions once you select your answer and press next you are not given the opportunity to review and change your answer.
Knowledge Questions
They cover 16 core areas (included in all CSCS tests). All questions are based on British legislation for construction sites.
On the 38 general questions if you wish you can flag questions you'd like to come back to or review all 38 knowledge questions with the opportunity to alter your answer if you'd like before ending the test.
A range of materials is available to help you revise and practice for the CITB Health, Safety and Environment Test. They are available from most high street and online booksellers or use the links below to the citbstore and hse mobile apps for downloads to computers/tablets & mobile devices.
Complete the form below to enquire about booking on this course.