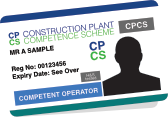 Core CPCS elements
CPCS is recognised by the UK Contractors Group & Major Home Builders Group , it is one of the preferred card schemes to comply with codes of practice for competence and certification,  accepted throughout the UK and Europe as a proof of skills card.
CPCS covers an extensive range of plant and plant related categories, the list ever growing!
Core CPCS elements:

Training

Health, Safety & Environment Awareness

CPCS Technical Tests;
Theory – Proof of knowledge and understanding
Practical – Demonstrating operator ability

NVQ/SVQ – Proving competence by meeting knowledge and performance criteria.

Logbook – Keeping a record of operating ability

On Site Assessment – Demonstrating on-going operating ability

CPCS Renewal Test
Complete the form below to enquire about booking on this course.